SIERRA VISTA — Even in Little League, it's all about who steps up.
Some players are brand new to the game. Others are feeling out their roles on the field. Probably a couple are hoping the ball doesn't pop up their way on defense.
Recognizing what the team needs is when players can find themselves.
"I've never pitched before," 9-year-old Alessandro Danko said Wednesday night at the Stone Complex in Sierra Vista. His Mariners team was about to do battle with the Rays in Minors Division action with the regular season winding down.
Wednesday was Alessandro's night to pitch.
"This is my first season pitching. I just do it. I've pitched in my backyard and I was a pretty good pitcher, so I stepped up and said I wanted to pitch."
Division standings aren't always the most important facet of youth sports, but for those scoring at home, the Rays and Mariners don't look to be making any runs to the division title with only a couple games left. The Mets entered Wednesday night play atop the Minors Division with an 8-1-1 record. The Rays and Mariners combined have five wins with tournament season fast approaching.
Teams all over the world are sharing similar experiences on sunkissed fields with parents in the stands on a typical late spring evening. Since debuting in 1939, Little League today can be found in more than 80 countries worldwide with more than 2.4 million children participating each year.
Some of the facets of Little League have changed, but almost nothing else. The sight of a dad throwing some bullpen pitches with his son is timeless, as was the case with Carlos Amador warming up his son, the Mariners' Carlos Jr., prior to Wednesday's game. Carlos Jr., 10, was throwing that night.
"When I grew up it was tough," Carlos Sr. reflected. "Practice used to be like three hours a day. It's different now. I'm still old school a little bit."
Some teams have as many as 10 games under their belts since the season opened in late March. That's an eternity in youth development, and evidence of improvement after two months is seen in many more ways than wins and losses.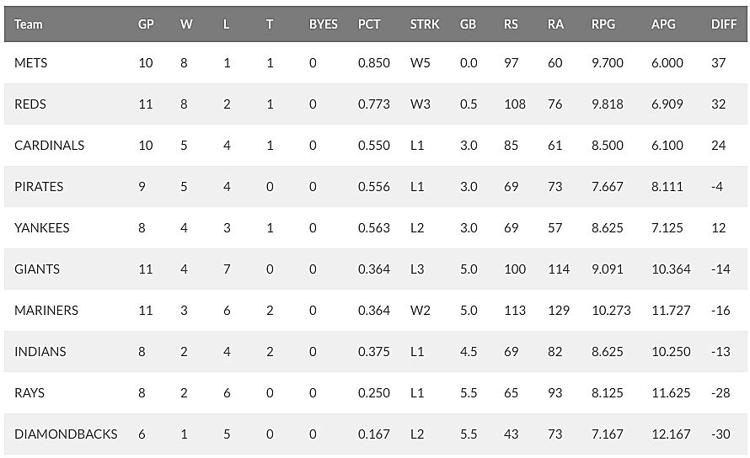 "A lot is their confidence," Rays coach Dean Marturello said. "One of the hardest parts of a new team is getting to know each other and feeling confident in your skill level. And so as you play throughout the season you develop relationships with your teammates and it becomes easier to trust them and know you can throw the ball to them and they're gonna catch it and make better plays. That's one thing that we've noticed."
Work continues next month.
Little League Baseball and Softball will team up with MLB for PLAY BALL Weekend on June 3-4, and is encouraging local Little League programs from around the world to join in on the opportunity by hosting their own events that weekend. PLAY BALL is an effort to encourage youth participation in both formal and casual baseball and softball activities.
"It's all about fundamentals and getting the kids to learn how to play the game," Mariners coach Brian Griswold said. "A lot of them have some experience through T-ball and coach-pitch, and then there's some that don't have any experience. This might be their first year playing at all."