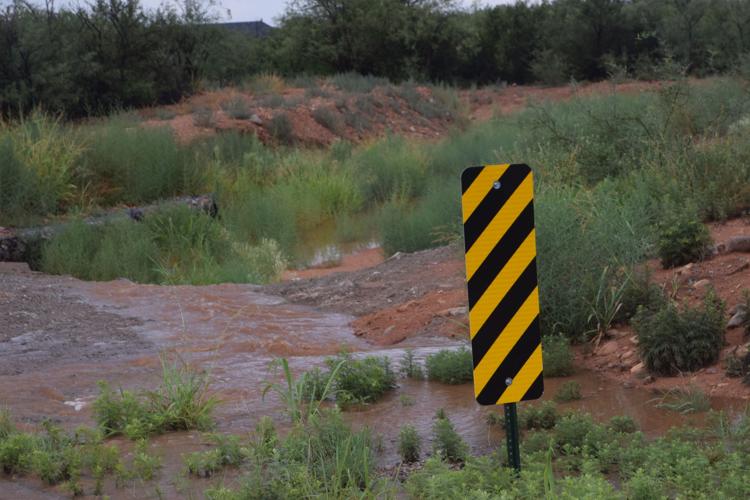 SIERRA VISTA — Rain totals across Southern Arizona are down so far this monsoon, but predictions for an above average August could help bring numbers back to where they should be.
So far this monsoon, Sierra Vista has officially received 2.2 inches, more than an inch below normal. The area usually has 3.39 inches by this time of the season.
The low totals aren't a surprise though.
"Overall, it's been a slow start, we were expecting a slow start, so it's what we were anticipating heading into the monsoon," said National Weather Service — Tucson Meteorologist Rob Howlett.
But Cochise County has actually been getting more precipitation than other areas.
Willcox has received 2.21 inches, Douglas has seen 2.04 inches and Safford has collected 1.28 inches. But those numbers are still a half-inch to an inch and a half lower than normal.
By comparison, Tucson has only witnessed 1.07 inches, down from the average of 2.4 inches, while Oracle is more than two inches below normal, at 1.43 inches. Nogales is at 1.26 inches, more than three and a half inches below average.
Although the numbers are down, the next month could bring more precipitation to the area, Howlett said.
"The outlook for August is for slightly better chances of more than average rainfall," he said.
The National Interagency Fire Center agrees with that assessment in its latest report.
"Looking forward, an active but compressed season is expected across the West as the southwestern monsoon becomes more active in August," the report states.
Fueling the fires
With the monsoon also comes lightning along with the storms, which can spark wildfires, but those fire risks have been mitigated recently as the rains increase.
"We've seen some improvement over the last couple weeks," Howlett said, although there have been some dry lightning strikes in the area in the middle of July, he added. "As more and more moisture comes in, it seems that everything has sort of been tampered down a little bit."
Regarding the fire season, the NIFC said, "Looking forward, an active but compressed season is expected across the West as the southwestern monsoon becomes more active in August."
Howlett said the typical daily cycle of thunderstorms will be continuing in the afternoons and evenings as the monsoon launches into full swing.
"Overall, the outlook for the month looks decent, so we should be continuing to see thunderstorms and getting rainfall to hopefully balance out a bit more here," Howlett said.
After that, the present El Niño episode is to weaken through the next few months into the fall period with the possibility of a resurgence late this year into early 2020, according to the NIFC.
Also expect some brief spells of hot temps this month.
"Temperatures will be close to average throughout the period with a few short duration periods of above average temperatures possible in August," NIFC reported.
Although a wet winter and spring has led to drought conditions across the state to be lifted, any more delay in the monsoon could see dry conditions return.
Localized storms
"The monsoon activity has been lagging with only a few localized monsoon storms," said the Arizona Department of Water Resources in its July report. "As a result, most of Arizona received less than 70% of normal precipitation in July. Southern Arizona specifically, where the summer is usually the wettest season, received less than 50% of normal precipitation during the past three months."
"The moist air has been lingering in northern Mexico but has not yet crossed into Arizona. If the monsoon activity does not significantly increase within the next week, it is likely that short-term drought will be reintroduced to the state."