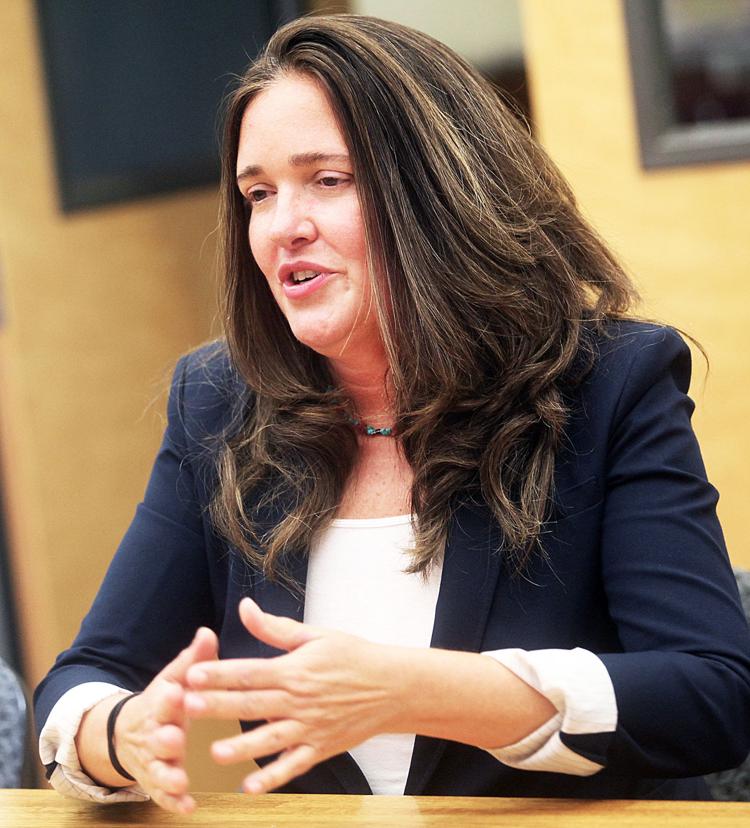 SIERRA VISTA — If you have not heard of the Arizona Land and Water Trust (ALWT), you are not alone.
For the past 40 years, the nonprofit trust has been at work in the background helping ranchers and farmers shift historic, familial agricultural lands in Arizona into conservation easements. Conservation easements protect the land from intense development while preserving an important way of life.
Liz Petterson, ALWT director, explained a conservation easement is a legal agreement a property owner makes to restrict the type and extent of development on the property. Easements limit real estate development while allowing farmers and ranchers to continue the lands' agricultural uses.
"We believe development is inevitable. But, through conservation easements, we can establish how much development can occur," she said.
Here in Cochise County, ALWT has successfully brought 4,405 acres into conservation easements on lands that include the 47 Ranch, Rain Valley Ranch, Mustang Ranch, Sandhill Ranch and others and is working on another 5,000 acres.
The Sandhill Ranch in McNeal, owned at the time by Blanton and Betty Belk, was a good example of the important work the trust does to protect history and wildlife. Now, 1,000 acres of land near Whitewater Draw, a favorite birding spot where upwards of 20,000 lesser and greater Sandhill cranes and thousands of other water fowl and birds spend the winter, is protected from development, a result of ALWT's effort to secure a conservation easement.
By utilizing funding from the U.S. Fish and Wildlife's North American Wetlands Conservation Act, Sandhill Ranch is permanently protected, Petterson said. The project expanded the 1,500–acre Whitewater Draw Wildlife Area to the south owned by the Arizona Game and Fish Department, and protected the working landscape and cattle grazing on the farm.
"We're doing more work in the Whitewater Draw area to protect and preserve the land," she added.
Within the Fort Huachuca Sentinel Landscape, the historic Rain Valley Ranch was a priority conservation area for the U.S. Army's Fort Huachuca. Military Installation Funds from the Arizona Department of Emergency Military Affairs allowed for the acquisition of the important easement through ALWT, she continued.
"The easement allows continued agricultural use of the property and adds to protected lands that keep development from encroaching into the Fort's vital R–2303 Military Airspace and Buffalo Soldier Electronic Testing Range," Petterson said.
Through the Desert Rivers Program, the trust is working with a landowner on the San Pedro River to save 700 acre-feet of water which would have been pumped from the aquifer.
"He'll grow lower water-use native grasses (for cattle grazing), rather than high water-use crops like alfalfa. This partnership helps to reduce groundwater pumping, which negatively affects our surface water flows in rivers, while also compensating the landowner to make these adjustments through a voluntary, short-term water lease agreement with the Trust. This agreement helps to sustain the agricultural operation as it creates another source of income," added Petterson.
ALWT also works with Cochise County, The Nature Conservancy and others in projects with landowners.
"We partner with landowners and local, state and federal agencies and foundations," she continued. "We're like matchmakers. We bring money to implement the easements."
Petterson grew up in rural Tucson, before the population boom, and came to love the wide-open spaces and diverse wildlife.
"We hiked and biked as kids and I remember that experience of being in the desert," she grinned. "I'm just a western girl at heart and I appreciate the bio-diversity of southern Arizona. It's such a unique area."
It was just second nature to become involved with an organization that promoted preserving the wildscapes she loved. She began working for the trust in 2007 and became director in 2011.
For decades, the ALWT worked by word of mouth in the background excelling at the mission with a small staff to protect southern Arizona's farms, ranches and wildlife, scrimping along financially. Now, it is necessary to come out of the shadows and let people know of its mission and dedication to preserving Arizona's western heritage and seek donations to cover ever-increasing expenses, she explained.
"It's important to talk more about our nonprofit now," she said.
Since 1987, ALWR has protected nearly 50,000 acres in southern Arizona through conservation easements, donations and fee acquisition. In 1985 the Trust was instrumental in establishing legislation in Arizona enabling conservation easements.
More than 50,000 acres has been protected and over 3,000 acre-feet of water secured for the environment since the trust's inception. It has raised over $12 million through supporters and foundation partners, while leveraging more than $15.7 million in federal grant funding to protect working landscapes, wildlife habitat, riparian areas and corridors for wildlife movement.
ALWT has won four state awards for its work, and in 2016, the organization received the National Land Trust Excellence Award from the national Land Trust Alliance, representing more than 1,100 land trusts nationwide. ALWT is the only trust in the lower western states to receive this award in its 10-year history.