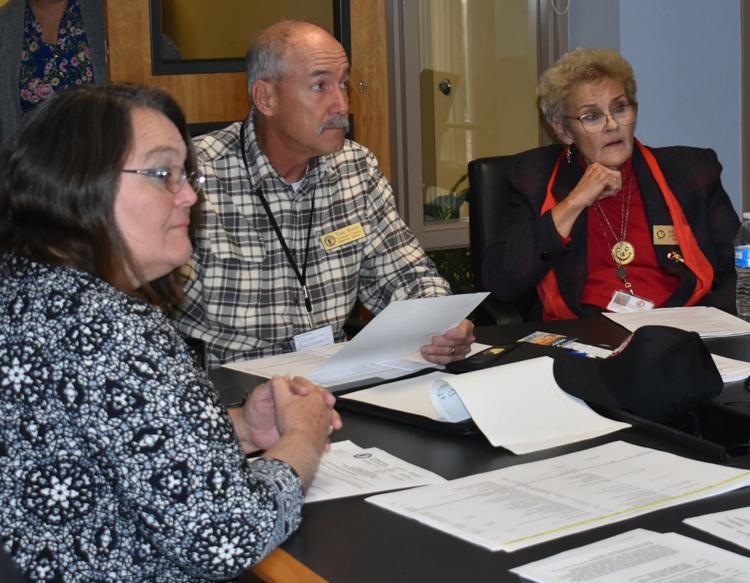 BISBEE — In a work session Tuesday, the Cochise County Board of Supervisors discussed how to move forward with a series of water issue seminars suggested by Supervisor Peggy Judd, but with a bit more restraint.
Judd took to heart the words of former Gov. Bruce Babbitt's suggestion — perhaps the rural counties should be in charge of the underground water — at a recent County Supervisors Association meeting. She planned out a series of four seminars to be held monthly from January to April in Willcox and in Sunsites to educate and inform her constituents about the problems with withdrawal from the Willcox Basin aquifer and how to proceed.
"Babbitt cares," she explained. "He feels he failed and should have done more back in the 1980s to help the rural counties. He supports us."
Supervisor Tom Borer was present for Babbitt's address and agreed in part, but said the plan, "has huge challenges to it."
Judd noted Arizona Department of Water Resources director Tom Buschaztke was quoted as saying, "Why shouldn't county goverments regulate groundwater?"
Judd explained to Borer and Supervisor Ann English her constituents passed along concerns due to a number of articles published in local, state and national newspapers and on national television about agricultural water use. The stories described the struggle of nearby property owners and farmers who watched as their wells went dry and how large agricultural corporations are drilling wells ever deeper, an answer to the problem they cannot afford.
So, she said she wanted to respond to the eastern part of her district and posed the seminars as a way to get things off to a good start. The Willcox Water Project in the Upper Sulphur Springs Valley would attempt with citizen and expert input to develop some type of legislation to advocate for a change in policy whether it be a water district, a moratorium on new well drilling, or an Active Management Area (AMA) to take to the state for approval in 2021.
To make an impact on the state legislators, she said 200 to 300 people from the area would be needed to show support for approval of such legislation.
Judd brought up citizen concerns with Riverview Dairies, which has locations on Kansas Settlement and near Turkey Creek, totaling around 47,000 acres. It was reported the corporation had drilled a 2,500-foot well, and it worried and angered many in the basin communities.
Borer wanted to know just how much the water table in the aquifer has dropped since 1950 and how much water Riverview Dairies is using.
"We just can't keep going deeper and deeper for water," Borer added. "More research is needed."
Unfortunately, the state legislature does not require agricultural wells to monitor their water use, though the Arizona Department of Water Resources tried to push legislation through last year to monitor all wells which pumped over 35 gallons a minute.
Borer and English both commended her "passion" to help and were in favor of approving the expense of $22,395 from her community enhancement funds to help get the seminiars and the project off the ground. However, they were not in favor of having the county as the power behind the organization.
Since the Willcox Basin is also the water source for some southern Graham County residents and farmers, input from them would also need to be included, pointed out County Administrator Ed Gilligan.
"In order for meaningful discussion and management, you have to draw from all the people in the basin," he told Judd.
English agreed Willcox would be a beneficial agent and noted environmental and water conservation concerns were part of the county's five-year strategic plan. "It gives Peggy the right to come to us."
"And you have to figure out who to pass the money to," continued English. "There needs to be an organization to write the checks. Our Procurement Department can't do that."
Judd suggested Willcox as a possible agent and Borer and English agreed it would be a prudent way to get things started.
English also said she was not in favor of county staff working to get the project off the ground or participating in the seminars, even though Judd wanted to have a discussion on possible recharge projects through the Planning Department and Cochise Conservation and Recharge Network (CCRN) at one of the seminars.
English stated, "We can help initiate this, but it's not a county function."
Borer added, "I have concerns the public will think we're trying to ramrod this thing through. You can be a champion for it in the background, but you can't control it."
The supervisors are expected to approve Judd's expenditure request at next Tuesday's board meeting, where it will be made clear who will be the fiscal agent.