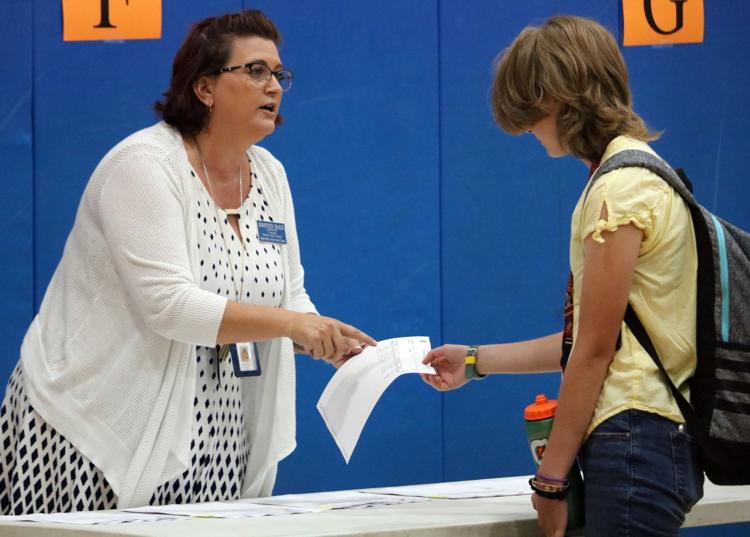 SIERRA VISTA — A dedicated time during the school day to help Buena High students struggling with their classes has been blamed for having negative consequences, but reaction to a change in schedules is now causing confusion about the time allotment with students, teachers and parents.
When students returned to school in the fall, "Colt Time," a 30-minute time allotment for enrichment and reteach, was in effect after third hour, which it had been for the last three years. But when they came back to school on Tuesday after the Veterans Day holiday, the time was moved to the end of the day.
Buena High School Principal Kristen Hale said the sudden change was made with the best interest of the students in mind, because more and more students needed the extra help in math and English. "Colt Time" was first implemented throughout the Sierra Vista Unified School District in 2016 so teachers could have time to help students struggling with certain concepts.
Roughly a month and a half ago, this time was removed at the high school. Hale said the freeze came after the school's student resource officer told her they were experiencing and "increase in illegal activity" during that time, since students were wandering the halls instead of going to the class or teacher they were supposed to.
"Safety has to be our number one priority," Hale said.
For the time being, the only reteach subjects will be English and math as those are the subjects that most students need help in. Hale said she currently has 28 math and English teachers, and all will be utilized for the reteach classes. The teachers will meet to go over all the students results of their common formative assessments.
The students who are struggling the most, according to the data, will be pulled from their assigned enrichment class for reteach. Students will be in their reteach class for a minimum of two weeks, and all the classes will be capped at 17 pupils.
"The biggest complaint I received from parents and teachers (about the time) was there was no way to take formal attendance," Hale said. "Now students are permanently assigned enrichment class. If they have a seventh hour class, they were assigned Colt Time."
She noted only 338 students at Buena do not have a seventh hour class, so they were not placed because they leave early. These students are able to return to campus if they need help or select the time for reteach as an assigned class.
Many parents voiced their concerns on social media. Becky Aton, who has a daughter at Buena, and other parents questioned why the change was made in the middle of the semester.
"Why mess with it in the middle of the semester," Aton told the Herald/Review. "It makes no sense."
Hale told the Herald/Review she didn't want to wait because she has parents and students asking her when they are going to reinstate Colt Time because they need and want the extra help.
Making the change now was not their first choice, Hale said, but it had to be done. "If we're truly focused on (our) students ... why not change when we know it will work."
In an effort to minimize the number of students who had their schedule changes, Hale said all of the students who had lunch during fourth hour were switched to sixth hour and fourth hour became a class for all students.
Now, instead of three lunch periods, there are two. Hale said she spoke with the cafeteria staff after seeing concerns about there not being enough food for the increased number of students, and was assured there was plenty of time and food for everyone to eat.
Another concern that swirled on social media was about lunch being too late, as they were pushed back by more than an hour. Hale said students are able to bring snacks to have in between classes, and moving forward they are going to try and give students with zero hour the earlier lunch if possible.
The change didn't go as smooth as Hale and administrators would have liked on Tuesday. Students were held in their third period class longer than expected because counselors were printing off new schedules. Hale said students were kept in their classrooms for roughly 35 to 45 minutes while schedules were being printed.
New schedules had to be printed because counselors found that on many schedules, their fourth hour and fifth hour classes didn't switch, so students didn't know where to go. In order to prevent students from wandering in the halls, they were kept with their teacher until the new schedules were ready.
Hale said the next step is to have students choose their enrichment classes to be something they look forward to going to at the end of the day. If administrators feel they can make it happen this year, they will implement it.
"I want to see all students have confidence in their core content area classes," Hale said when asked what the goal of "Colt Time" is. "And that (confidence) would flow out into other classes."
Hale encourages parents to reach out to her if they have any questions about the new schedule.