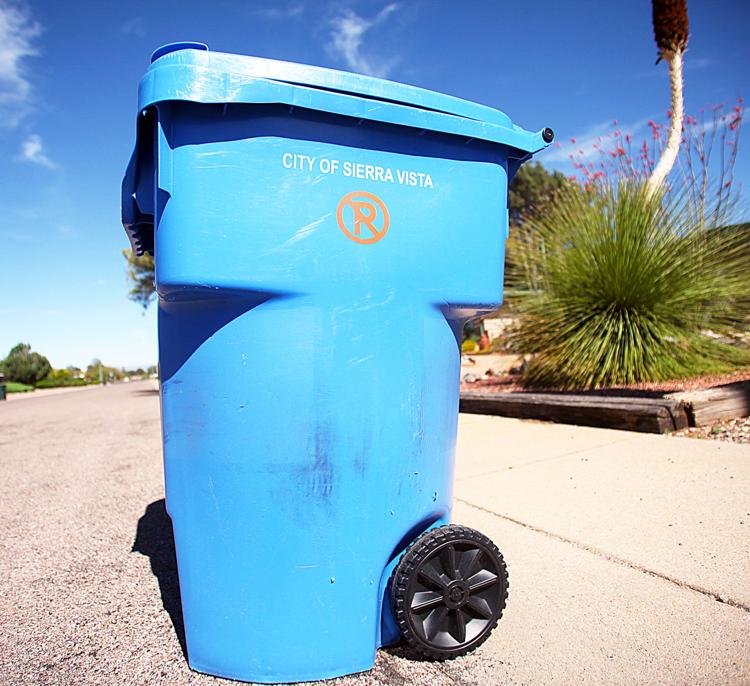 SIERRA VISTA — The Sierra Vista City Council discussed proposed changes to several city refuse programs, including recycling, as well as a revised draft plan for rerouting the Vista Transit bus system during their work session Tuesday afternoon.
City staff and the council have been in talks about finding ways to reduce operational costs and increase efficiency in the bus system through rerouting. The plan is based in part on a 2018 engineering study commissioned by the city.
The proposed plans have gone through multiple public hearing processes, including an open house at Vista Transit on April 18 to gain public feedback, a discussion during a highly attended Transportation Advisory Committee meeting, several council meetings and an online public comment period which is still in process.
City staff have revised their proposed route plan for Vista Transit based on the concerns and needs addressed by public citizens who use the transit system.
Before any changes are actually made to the transit system, it will need to complete the public comment period.
Public Works Director Sharon Flissar presented the revised plan, which is significantly changed from the originally proposed plan.
"As comments started coming in, we started making changes to the routes, looking at better ways to do things," she said. "I would say this is definitely a situation where public comment has worked. The public saw things we didn't see and enabled us to make the routes better."
The major proposed changes are expanding the hours for Routes 4 and 5 so all routes run from 7 a.m. to 6 p.m., providing more opportunities for transfers, reaching areas not served before and saving money in the general fund.
The prior draft map of the routes eliminated a section of the city in the South Coronado Drive area. However, there was a high level of public input on that item and the new draft map includes the area again.
Another change brought on by public comment was eliminating a proposed bypass route on State Highway 92. Many members of the community said they thought it was unsafe.
"We heard in the comment period that people didn't feel like that was the safest option; they were concerned with the higher speed," Flissar said. "This is largely a perception issue, but we can avoid it with simple rerouting and alleviate those concerns."
Other proposed changes include all routes going on hour-long schedules and staggering stops at Walmart so that all buses do not arrive at one time.
Under the current system, the annual operating cost is $391,670. The proposed changes would drop the annual operating cost to about $282,270.
Transportation Manager Mike Normand said he was happy with the process and feels they have addressed public concerns while still meeting their goals with the revised draft plan.
"We worked through some concerns people had and went back to council with a refined proposal based on public input," he said. "We're meeting the needs of people based on what they told us."
For more information on proposed changes to Vista Transit, visit www.sierravistaaz.gov/proposed-visit-transit-route-changes or visit the Herald/Review for additional coverage.
Refuse programs
The city also discussed proposed changes to three refuse programs, as well as a change to recycling.
Refuse is considered an enterprise fund, meaning it must be managed as a business, covering the cost of operations and at least breaking even. Currently, the residential Dumpster program and the special pickup/green waste program are both operating at significant losses.
Assistant City Manager Victoria Yarbrough explained there is a deficit that must be fixed.
"Last year, we were facing a significant fund shortfall and because that council voted to increase refuse rates for the community that made about half of the shortfall that the fund was facing," she said.
"We charged staff with seeking efficiencies in the way the fund was being run and ways we could run it better to make up the rest of the shortfall."
Residential dumpster program
The city's program allows residents to rent Dumpsters on a short-term basis for things like larger home improvement projects. However, Flissar said they have had issues with people keeping them long term.
The program is currently operating at $60,000 over budget.
"One of things missing from this program is a service fee to empty the Dumpster," Flissar said. "We charge people a tipping fee, but there is no service fee for time the staff spends going out there.
"We don't charge a depreciation fee so for the time that they have the roll off Dumpster in their possession the city is paying that cost."
City staff recommended adding a service fee to deliver, empty and remove Dumpsters at cost, plus either 25 percent or 30 percent added on.
They also recommend a disposal fee and increasing the monthly lease fee. The option with higher percentages could bring in $35,519, while the other option would bring in $23,943 in net revenue.
Special pickup/green waste
These programs are operating at $81,000 over budget.
Currently, the fee for special pickup is $14.40 for two cubic yards or half of a pickup truck bed. The cost to the city is closer to $32, losing them $18 per special pickup.
Green waste pickup is currently free and costs the city about $22 each time.
The city recommends consolidating these programs into one fee which would be cost of service plus either 30 percent or 40 percent added on.
Compost
Compost is currently operating at a positive number but they are undercharging for service, resulting in surplus material.
Right now, dropping off compost materials is free to city residents and costs $5 for others. They are considering raising the rate to $10 for everyone.
They have also discovered that the price they are selling their compost for is far below market value, so much so that it is being bought by a supplier who is selling it for a higher cost.
They are recommending increasing the price of compost from $15 per cubic yard to $25.
Recycling drop-off
The city has been looking into options for recycling and is recommending eliminating curbside pickup, instead creating a recycle drop-off location at the compost facility.
If the council chooses this option, a recycle drop-off location manned by staff would be set up and recyclables would be sorted through to achieve the cleanest, most marketable materials.
"One of the givens when we started this effort is that recycle drop off would need to be staffed — otherwise contamination rates are just too high and material is not marketable," Flissar said.
"By making these changes, we are not only hoping to improve the health of the fund but also to find a way to free up staff to work the drop off without hiring new staff."
Flissar said that as long as contamination rates are kept down, which would be easier to accomplish using single-stream recycling as proposed, that this plan can create revenue.
The city would allow residents to keep their blue bins if they wanted to and use them for other things. Flissar said there are about 11,000 blue bins out there and to pick them all up would take about three months, including Saturdays. Residents would only be putting out their green bins with trash and would drop off recyclables at the center.
Staff will end curbside pickup and start phase one of the recycle dropoff in July.
Depending on how the program went, the city would explore additional drop-off locations.
All recommendations on refuse programs will be written into a proposal and brought back to council for further discussion. 
Editor's note: This story has been updated to reflect changes to Vista Transit and city refuse programs do not need final approval by the city council and that curbside will be ending July 1. The first phase of drop off recycling will also begin in July.