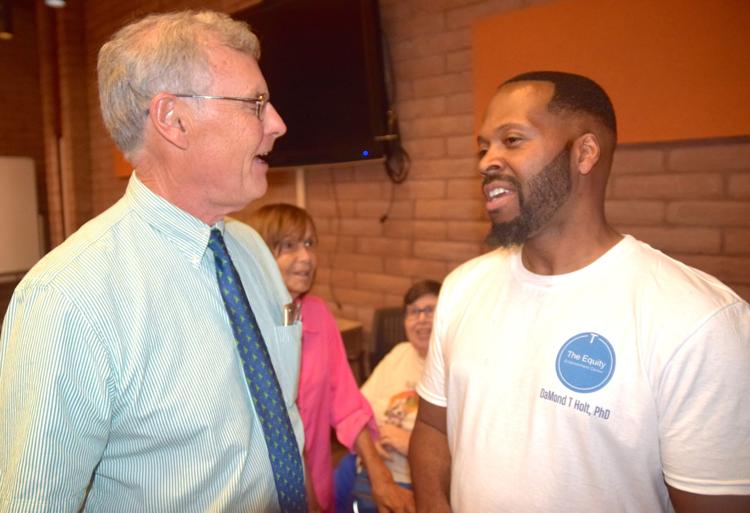 SIERRA VISTA — Bullying has become an epidemic in schools across the country, linked to serious mental health issues that carry such emotional impacts as depression, anxiety, decreased academic achievement and reluctance to participate in school.
Concerned about the traumatic effects of bullying, the local National Alliance on Mental Illness (NAMI) chapter made bullying prevention the focus of its annual meeting on Saturday.
Certified Mental Health and Trauma Crisis Specialist Da'Mond T. Holt served as the program's keynote speaker.
As a national expert in the field of mental health, trauma, bullying prevention, restorative practices and student equity, Holt works for Tucson Unified School District, where he oversees bullying and harassment prevention. He has an MS in Christian Counseling in mental health, a doctorate in counseling psychology from Trinity International University as well as a doctorate in theology from inter-Baptist Theological Seminary.
Born and raised in Flint, Michigan, Holt describes himself as a trauma survivor because of his own childhood struggles.
"For 12 years of my life, my mother was involved with drugs and I never had a father in my life at all," he said. "I'm not only from a single-parent household, but a broken single-parent household. Most of my friends that I went to school with are either dead or in prison. So, statistically, I am not supposed to be here. I should be in a grave, or doing 20 to 40 years in prison."
Holt credits a powerful youth ministry program that dealt with at-risk black youth for turning his life around. That church, he said, laid a strong foundation for who he is today, along with two educators — a fifth-grade teacher and an assistant principal — who showed an interest in him and urged him to get his life on track.
Through his role with the Tucson school district, Holt trains teachers and counselors and works directly with kids who are going through challenges.
"A lot of these kids are dealing with a tremendous amount of trauma in their lives," said Holt, whose intervention efforts have helped children with PTSD, some who have witnessed violence and others who have been victims of bullying.
Holt believes that sitting down with troubled children, talking to them, listening to what they have to say and showing them they are loved is the only way to truly reach them.
"I don't believe there are bad kids," he said. "These are kids whose struggles are powerful and real, but love is even more powerful. These kids are human. They have hurts and pains."
He says when children are raised in bad circumstances, living under bad conditions without healthy relationships to influence them, they make bad choices. Holt maintains that it takes a village to help traumatized kids overcome emotional challenges.
"It takes building special connections in order to reach these kids," he said. "If you can't reach kids, you certainly can't teach kids. The greatest teacher is an awesome 'reacher.' "
The "reaching" piece of his message is what resonated most with his audience of mental health professionals, educators and those affiliated with NAMI.
"He brought life to the important issues we are seeing in schools when it comes to bullying," said Mark Suagee, who serves on NAMI's board. "The need to reach kids by listening to them and loving them really came through. I thought his 'teachers need to be reachers' message was very powerful."
The teachers who build great relationships with kids by treating all children the same, by showing them they are loved and letting them know they're important are the teachers who are reaching those kids, Holt said.
When it comes to bullying, one out of four children are bullied in schools across the country, said Holt, who also noted that over 160,000 of those kids show the psychological ramifications of being bullied.
They don't want to go to school and many suffer from chronic depression and anxiety.
"Bullying is not just physical," Holt said. "A lot of bullying is verbal and has serious emotional effects."
It's not unusual for kids that have been bullied to become bullies themselves, thereby inflicting those painful experiences on others, said Holt, who added, "I believe all schools need to be bully-proof."
Along with his anti-bullying training, Holt provides written guidelines for schools to follow and does ongoing consulting.
Some of his future goals are to write books and he plans to start a radio show that deals with behavioral and mental health, social and emotional issues.
"He is very inspiring," said Sue Breen, who drove from Clifton to attend the meeting. "I'm in NAMI's 'Ending the Silence' program for Graham and Greenlee counties. Knowing that Dr. Holt has been through these kinds of traumatic experiences himself and that he is in the trenches, working with kids who are going through tough emotional challenges, is inspiring. After listening to him, I feel we can do a lot to make a difference, which is encouraging."