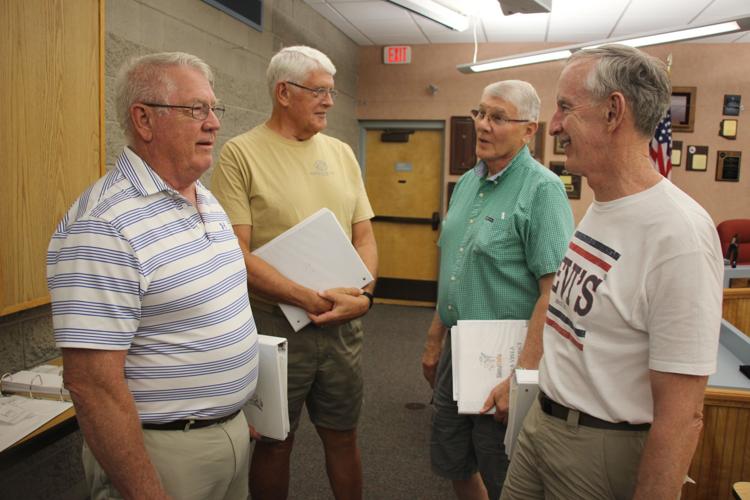 SIERRA VISTA — As the Sierra Vista Unified School District Bond Oversight Committee (BOC) nears the halfway point of a $28 million bond execution, committee members reported a number of accomplishments throughout the district Tuesday night.
"And yet, there is much more to be done," said bond oversight committee chair Jerry Proctor. "It is surprising how fast the bond timeline is flying by."
Proctor pointed to investments in transportation, construction and information technology, projects made possible through the voter-approved bond dollars.
"The dedicated experts on the oversight committee remain vigilant and are devoted to the task as outlined by the school board," Proctor said. "The team is blessed with tremendous expertise, including a CPA, a former career project manager and multiple IT (information technology) experts. Each member brings vast experience to this effort."
During Tuesday's BOC meeting, subcommittee members reported on how projects are progressing, answered questions, expressed concerns and talked about timelines for future projects.
Discussions
Joe Kraps of the construction subcommittee expressed frustration with how long it's taking the state School Facilities Board (SFB) to administer funding for a new roof at the Rothery Learning Center. Initially, the roof was one of the projects under the bond initiative, but when the state announced plans to allocate funds for the project, the district put the Rothery roof on hold while waiting for the SFB money.
"After two-and-a half years, the School Facilities Board still has not done that roof," Kraps said. "We can't brush this aside. We've waited two-and-a-half years for that money and nothing has been done. We have to be aware of our responsibility to the public."
Committee member Marge Carrithers assured Kraps that the Rothery roof bidding is complete, and that two other SFB-funded roofing projects — one at Joyce Clark Middle School and the other at Pueblo del Sol Elementary School — are in the assessment phase.
"To me, that represents progress," Carrithers said.
While all three projects were included in the bond initiative, by waiting for state funding, it extends the district's bond money and makes it available for other projects.
Chromebooks for students
Richard Dailey, who chairs the IT subcommittee, questioned why the school district decided to purchase Chromebooks and writing tablets for kindergarten and first-graders instead of iPads that had been planned for the younger students.
"After holding conversations with elementary school teachers, it was determined the younger children would be better off using Chromebooks and writing tablets," explained David Lujan, the district's IT supervisor.
Four thousand Chromebooks were distributed to elementary schools throughout the district, Lujan said.
"Initially, we were looking at laptops, then moved to iPads, then went with the Chromebooks," he added.
The Chromebooks cost less than iPads, and are easier for younger children to use, said SVUSD instructional technology coordinator Kathryn Wright, who explained that writing tablets are equivalent to digital whiteboards and are ideal devices for younger students.
"We also purchased Chromebooks because of the typing capability they offer," she explained. "We need to push them (younger children) forward to so they can learn how to do the typing and mouse movement.
"When they get into second grade and start benchmark testing, they have a hard time with their dexterity and motor skills. The sooner we get these devices into the classroom, the easier it will be for the children, as there are higher expectations for that technology."
Dailey said he would like the district to provide a sequence of events explaining the logic behind the movement from laptops, to iPads, to Chromebooks and writing tablets.
"People need to understand the movement and the logic behind this decision," he said. "We have to ensure we have a logical sequence of events to explain the thought process to parents."
Construction progress
Construction subcommittee chair Kraps touched on a number of projects currently underway across the district, starting with Pueblo del Sol Elementary School's new classrooms and multipurpose room.
Kraps provided committee members with a schematic drawing of the 10,946-square-foot building and said he expects to have the bidding completed by the end of the year, and hopes to get a contractor started by February.
The project's first estimate came in at $2.8 million, which Kraps said is high because of extensive site work needed to bring utilities across the campus to reach the site for the new building. He informed committee members that he would be seeking other bids.
Kraps also reported that Americans with Disabilities Act (ADA) work to restrooms at Town & Country, Village Meadows, Carmichael and Pueblo del Sol elementary schools is about 20 percent completed.
One unexpected extra cost to the ADA project involves replacing old water lines which had rusted, galvanized pipes.
"As we find things that need to be replaced, we have to make it right," he said.
Bella Vista and Huachuca Mountain elementary schools, as well as Joyce Clark Middle School and Buena High School, also need upgrades.
"We need to make a decision as a recommending body about pursuing clean-up, painting and general maintenance to bring these schools up to the level they should be," he said.
"We need fire alarms, intercom systems and video cameras that work at every school, at every location," Kraps added. "Life safety is first and foremost."
Other projects include the demolition and removal of a portable building at Pueblo del Sol Elementary School, which will be happening during the fall break, as well as replacing carpeting at Buena's performing arts center and band room. Upgrading the bathrooms at Buena and JCMS are other projects that need to be completed.
Spending concerns
IT subcommittee member Doris Caldwell raised concerns about transferring bond money from one project to another, stating she would like to see a report that shows completed projects and their costs, along with future projects and estimated costs.
"We got $28 million in bonds and we're supposed to be following a list of priorities," Caldwell said. "Stop transferring money. We got $28 million to finish so many priorities. When we get to the high school, it's going to be a humongous figure. We're either going to run out of money before we get through the priority list, or we're going to have money left to pay off the bond."
Other committee members argued that the issue of transferring funds is more complicated than it appears, and that a lot of thought and due diligence is going into fund transfers to ensure all funding movement is appropriate.
"As the next two-and-a-half years approach, the BOC will ensure that what the public voted for approximately three years ago is what their dollars will be spent on," Proctor said after the meeting.