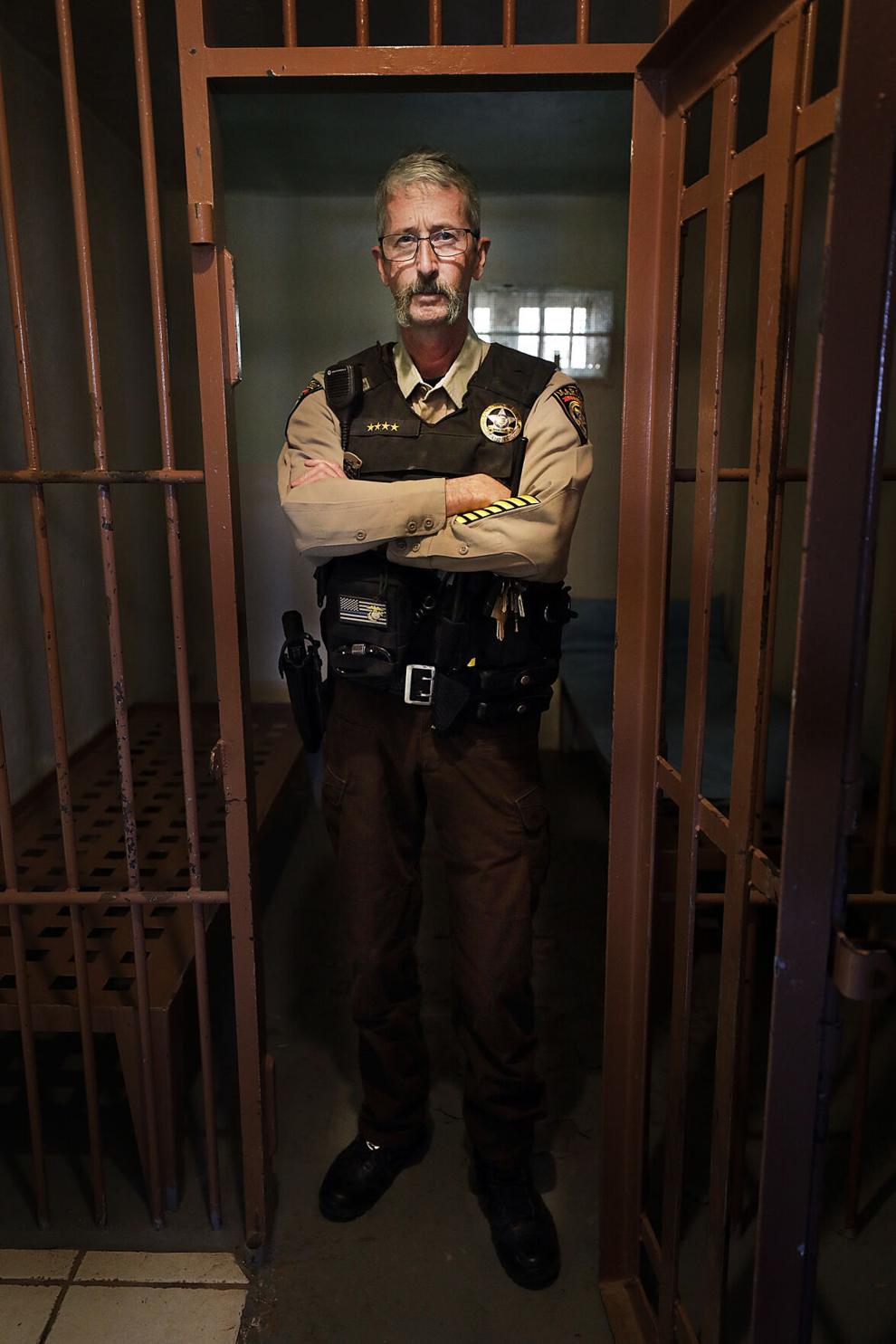 SIERRA VISTA — When it comes to having someone pay for murder, Tombstone Marshall Jim Adams has always had a relentless, almost insatiable resolve for justice.
Especially in cold cases.
As a detective lieutenant, Adams solved the oldest cold case in Sierra Vista Police Department history that took 32 years to crack — thanks, in part, to updated forensic technology along with dogged detective work— when he re-arrested a Mesa man for assaulting, murdering and raping an 18-year-old Bisbee woman, leaving her in a vacant field near the intersection of Seventh Street and Golf Links Road.
Now Adams, who has been the Tombstone marshall since 2020, is on the hunt of cracking another cold case — the murder of an 82-year-old Tombstone man shot to death in his home not far from the marshal's office. (See Sunday's edition for more)
Back on Feb. 5, 1977, the body of Barbara Rhodes was found in a field about 200 yards from a Sierra Vista trailer park where Kent A. DeHaven lived. A man walking his dog spotted it; she had gone missing in Bisbee three weeks earlier. DeHaven was 18 when he was originally arrested Feb. 10, but charges were dismissed without prejudice seven months later, which meant they could be refiled.
Adams never let go of the case. He still worked and reworked it, over and over again, every minute he could for nearly a decade off the clock.
"It's what you do when you work a case like this," Adams explained. "It's not glamorous like a cold case TV show that's solved in an hour. You just keep digging and digging, and you don't stop. You have to have a sense of mission to stay on something like this for this long. I had a massive caseload at the time, but I wanted closure on this case more than anything."
The case was an uphill battle from day one, what Adams described as "a massive challenge and a train wreck."
"There was a lack of witnesses, a lack of evidence and not a lot to work with when I was handed the case," he remembered. "It was just a tiny, little binder of a file with only three photos, two of which were of trees. Three photos in a homicide? That was crazy."
Slowly, Adams and Sierra Vista detectives began piecing things together, gathering little bits of evidence here, some tiny details there until a picture started to emerge.
"It was a tremendous amount of effort, and I worked it constantly mostly off-the-clock for 8 1/2 years until that thin little binder I started out with turned into a 3-foot high file," he recalled. "It was extremely arduous work."
Deep down in his gut, Adams always believed DeHaven — who knew the victim when they were classmates as Bisbee High School students and worked together at the Copper Queen Hotel — murdered Rhodes. But he also knew gut feelings don't bring a case to trial or win convictions. He needed real, rock-solid evidence.
He would eventually get it, but it would take years to uncover.
Shortly after the murder, Adams said DeHaven drove his car to Douglas and left the keys in it, hoping someone would steal the vehicle. When that didn't happen, he sold it. Detectives traced the transaction and found a felt mat in the trunk of the car that contained a bloodstain. The evidence was submitted to the Department of Public Safety crime lab, and a DNA profile was isolated.
"They put the felt mat in a box in the evidence room where it was nice and warm and no moisture could get it to contaminate DNA," Adams said.
But the case went cold again until it was reopened in 2001 at the urging of former Sierra Vista Deputy Chief Dave Santor.
The break in the case finally came 32 years after Rhodes was murdered when newer technology was used to re-examine evidence, Adams said. That meant exhuming Rhodes' body in 2008, which was done with the permission of the family. Her DNA matched blood that was found on the felt mat from DeHaven's car in 1977, and DeHaven was arrested for a second time in February 2009.
An autopsy report by the Pima County pathologist — who investigated deaths for Cochise County then — indicated she died of "strangulation associated with a fractured skull," according to a Feb. 16, 1977, article in The Daily Herald-Dispatch, the predecessor of the Sierra Vista Herald/Review. Adams said when he saw a triangular mark on the skull, he knew immediately what was used to hit Rhodes.
"I know weapons, and I knew that mark came from the butt of a Blackhawk revolver," he said.
Adams discovered it was DeHaven's gun originally. Through a pawn transaction, Adams traced the purchase of the revolver to a man in Texas who returned to Sierra Vista. However, no fingerprints or other evidence indicated the firearm was not used in the crime.
"Turned out he moved to Sierra Vista," Adams said, "almost right across from the Sierra Vista Police Department. Absolutely incredible. Unfortunately, it never saw the light of day in a courtroom. So I eventually bought it from the guy for $300."
After all these years, Santor has nothing but praise and respect for the determination and effort Adams put into the case, especially since much of it was off the clock.
"Working on the case in his 'spare' time, Jim did an outstanding job which culminated in the arrest and subsequent prosecution of DeHaven," recalled Santor. "Jim was an excellent detective, and his efforts on this case brought closure to the victim's family and friends and brought a killer to finally face justice."
Santor said he asked Adams to reopen the case because he thought that new evidence might make a successful prosecution possible.
"The problem with the original case, as I recall, was a technical error made by a former detective that negated the use of incriminating statements that had been made by the suspect," he said. "But there was enough other evidence to warrant the reopening."
According to a story from The Daily Herald-Dispatch, the report of Rhodes' death stated she left her Bisbee home for a party Jan. 14, 1977, and did not return. She was reported missing Jan. 15, 1977, and her partially decomposed body was found Feb. 5.
DeHaven was sentenced May 18, 2010, in Cochise County Superior Court to two to six years in prison. When a jury was unable to reach a verdict after deadlocking 11 to 1 to convict, he entered into an agreement April 20, pleading no contest to manslaughter. He was released in 2014 after serving four years.
Adams' career has been steeped in law enforcement following a four-year stint in the U.S. Marine Corps in 1988. Along with working as a SVPD sniper team leader, he was the department's Special Operations Bureau Commander for 21 years and has been Tombstone's marshal since 2020. He has been a private investigator, vice president of Global Security, taught the criminal justice program at Cochise College for nearly four years and was a guest instructor of military intelligence at Fort Huachuca for 13 1/3 years. Additionally, he co-owned Apocalypse Arms and Military Surplus on West Fry Boulevard in Sierra Vista.
Ever since the cold case was reopened, Adams said he has been re-examining all evidence to find anything that could help resolve it, especially for the family.
"Never for one moment did I ever think about stopping," Adams said. "As long and as tedious as it was, I'd do it again in a heartbeat. Sure, it was cool to solve this, but you don't do this for yourself. It's to bring a man to justice. He killed someone's daughter and wife and he tried to get away with it."