Rowdy Johnson hates soundchecks. The sound quality is sketchy, which, even in primitive rehearsal time, is no good for a band that's at its best when it's cooking.
And the Rowdy Johnson Band, on this day getting in tune about an hour before a private house party in Hereford, was already cooking. The four-piece Outlaw Country outfit, with the fiery Rowdy on lead vocals and guitar, was rolling on a tune with a driving beat. Lyrics covered everything: drinking whiskey, getting things right, and muddy water.
This particular tune may not be a keeper, though. Despite the rocking vibe of a band in sync, the song was being made up on the spot, freestyle words and all. Solely for the purpose of getting the sound right for their gig later that night, the foursome's instincts took over on a song born in a moment that they won't even remember.
"I've forgotten more songs than I'll probably ever write," Johnson said.
After this current — and most potent — version of RJB came together over the past few years, they have the musical muscle to cast off even spontaneous riffs that have chops. Rowdy's always writing tunes anyway. He wrote "Elly May's Biscuits" in the car after leaving his Huachuca City driveway. By the time he'd arrived in Tucson a little over an hour later, the song was done, complete with verses and chorus.
For a band that's released three CDs since 2011 and tours across the country (as they will when their new jaunt takes off in September in the ghost town of White Oaks, N.M.), the day of the Hereford house party was indeed notable. On that day, July 23, the Rowdy Johnson Band debuted on Sirius XM's Outlaw Country channel when their single "Gray Beards" earned a spot on the worldwide satellite radio's playlist. Rowdy pulled his car over and took a picture of the radio to capture a huge moment for the band.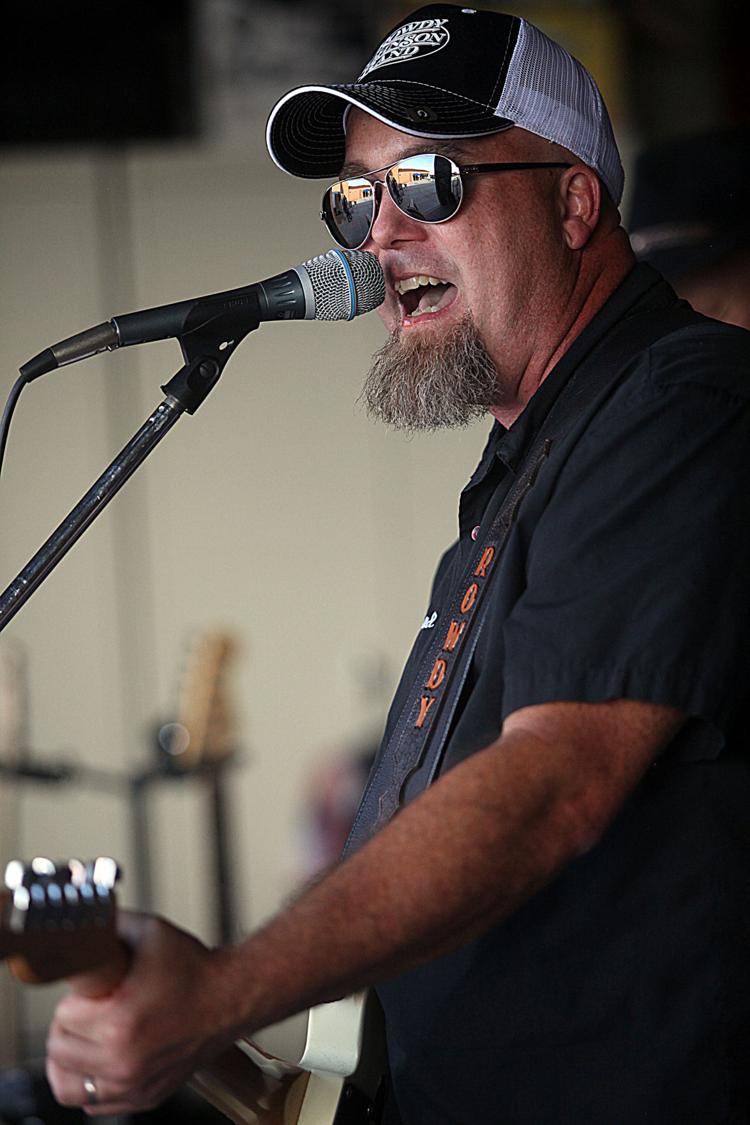 "You try so hard," he says. "You don't know if anybody notices."
Johnson, 43, left his central Florida hometown of Apopka (the same hometown as John Anderson and the band Sawyer Brown) in 2002. After two layoffs in a row, he and his wife "lost everything" and had to re-boot out west, moving to her hometown of Tucson.
"In 2007, I'd been out here so long, and me and wife weren't in a good place in our relationship," said Rowdy, which is in fact his real name. His mom was a big fan of Clint Eastwood, who portrayed Rowdy Yates on the TV show "Rawhide."
"I felt like I'd been taken away from everything I knew. I'm a southern boy, and this is not the south. There's nobody that eats like me or talks like me. I'm alone."
He thought about heading back to Florida — until his wife surprised him one day with a guitar, after he had to pawn all his guitars to make the move. That day he called in sick from his job to play all day, and that night he hung the guitar up on a wall in their bedroom.
By 2008, he'd formed the Rowdy Johnson Band.
"I was smiling again," he remembered.
The first version of the RJB is long gone as personnel turnover and attrition forced Rowdy to search high and low for the sound in his blood. He knew he needed a "hot band."
Before long, kick-ass players would be searching him out.
"The first time I heard Rowdy … I told my wife, 'I want to work with that guy," remembered drummer Ray Peter, who at the time was in two other bands and quickly signed onto RJB. "That's what I want to do. I want to do what he's doing.'"
Peter is in his 50th year playing professionally, with a drumming resume stretching from rock to blues to soul, gospel and country.
Those musical miles and longevity are arguably the strongest element of RJB.
Peter is 74. Bass player Ken Whitcomb is 74. Lead and pedal steel guitarist Dan Showalter is 66. And the band just recently brought aboard piano player Mark Yeary, 64, who spent 20 years touring as a member of Merle Haggard and The Strangers through 1992.
It wasn't scripted, but it turns out that the hot band Rowdy had sought out were seasoned veterans of country music, long on miles — and on gray hair.
"It's like taking the ugly chick to the dance. I feel pretty!" Johnson said, letting out a loud cackle.
"They've seen it all. I used to have a younger band that were all my age or younger. And we would have glimpses of being good but it wasn't consistent. And you start to run into (the idea that) everybody knows everything, and no one wants to be taught anything. I started to play with older guys, and you don't have to tell them anything--they already know what to do. They've been there and done that."
The chemistry is undeniable.
Four years ago, Showalter and Whitcomb were trying to get a classic rock cover band going.
"We were struggling with it but having fun jamming," Showalter recalls. "There wasn't anything magical there, but it had some potential."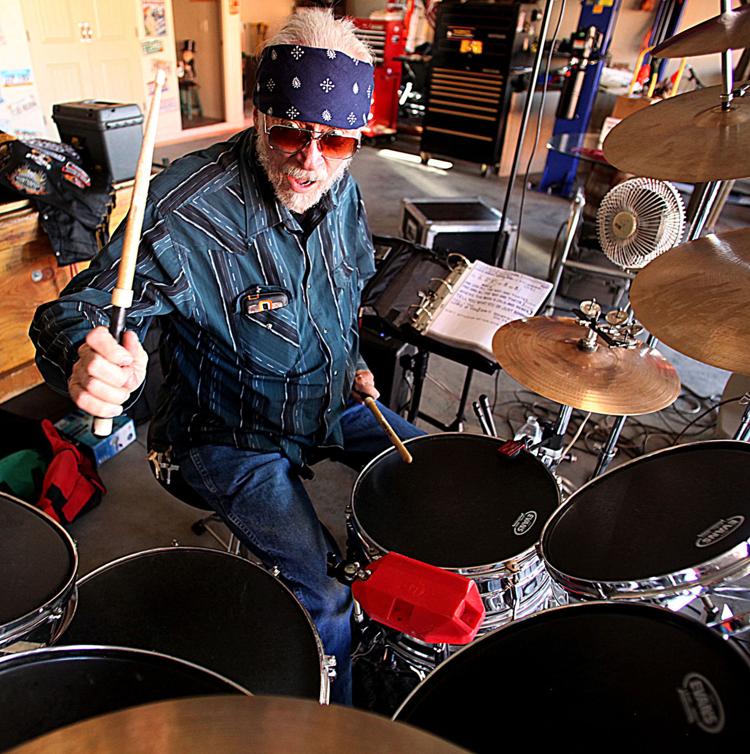 Showalter's history of country and gospel playing was more suited to his style, and he showed up in Tombstone one night four years ago to check out the Rowdy Johnson Band, which at the time was auditioning a new guitarist who wasn't catching fire.
It was handy that Showalter had his pedal steel guitar picks in his pocket just in case of anything. Having never even heard the songs they were working out, Showalter picked up the other guy's guitar and sat in. Rowdy just looked over and grinned.
"That was it," Johnson said.
Whitcomb had retired from the Army in 1981 (when Rowdy was 8) and turned his focus for the next 25 years on straight career paths as, among other things, a nuclear power consultant and in the casino gaming business before retiring for good and moving to Arizona. The guy who got his first job in a band in 1961 put a new band together but soon returned to his country music roots with the RJB.
The foursome released its first CD, "Outlaws Today," in 2011, followed up by "America's Best" in 2013 and "Hillbilly Rock Star" in late 2015. All are on the band's Gray Beards record label. They got their sound together in front of tough crowds at Tombstone venues like the Crystal Palace and the Four Deuces Saloon. Gigs all across the county kept them busy.
Since then, they've played in front of 40,000 people at the Toadlick Festival in Alabama and opened in Florida for the likes of Haggard, who invited them to literally sit behind amps and watch his set. Their next tour will take them through Arkansas, Tennessee, Georgia and a series of dates in Rowdy's home state of Florida (including in Apopka) before they return to Arizona for a gig in Benson on Oct. 21.
The band's upward trajectory is sky high after years of cutting their teeth in Tombstone.
"They're a very rough crowd," Rowdy said of their homebase fans. "You can get a friendly crowd or you can get the hardest crowd you've ever played for, and you never know. It's like a comedian getting booed. You don't know what you're made of until you're heckled.
"So I wanted to go right at 'em."