FORT HUACHUCA — Keeping constantly on the move is a regular part of life for military families. No home gets to stay home for very long in a mobile career. Unless you're lucky.
Spc. Ashley Williams considers herself lucky.
"I actually haven't had to leave yet," she said Wednesday. "I've been here for three years, and I don't think that I'm leaving anytime soon."
Three years without a move is a long time for an active-duty Army soldier, she concedes. Williams came to Fort Huachuca straight out of advanced individual training (AIT).
Like a couple hundred other military parents, Williams on Wednesday was at historic Barnes Field House on the Sierra Vista Army installation to take in the USO-sponsored Sesame Street Experience. Decked out in her work camo, Williams was holding her adorable 1-year-old daughter as familiar members of the Sesame Street gang entertained the crowd for a 30-minute show.
The show's theme was only too familiar. "Katie is Moving to a New Base" has beloved furry creatures like Grover, Rosita, Cookie Monster and — let's face it, the favorite in this room, Elmo — helping their friend Katie adjust to the news that she and her family will be moving again.
"My family is going to be moving to a new base again," Katie says during the show. "It seems like every time I get settled, I have to move again."
Grover enthusiastically encourages, "Friends always find ways to keep in touch."
"Like sending cookies!" adds Cookie Monster.
The show featured songs and dancing and lots of fun interaction with the young ones, all of whom were kids of military parents on Fort Huachuca. The traveling show performed the day before at Davis-Monthan Air Force Base in Tucson, and has stops scheduled next at Fort Bliss (Texas), Fort Carson (Colorado) and Peterson Air Force Base (Colorado).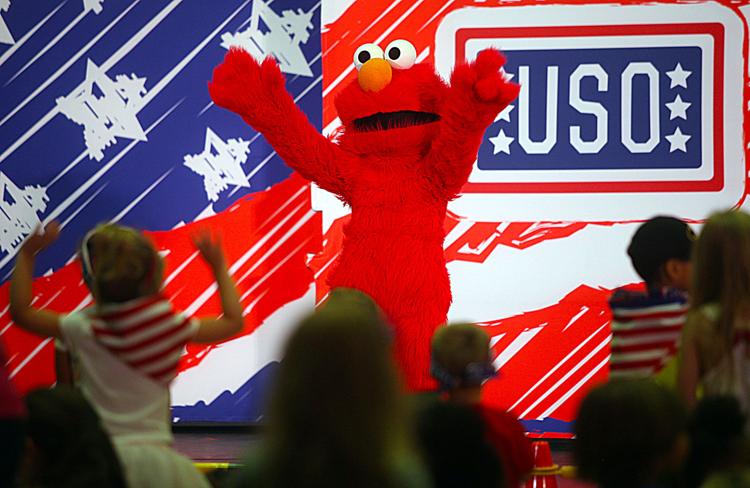 The Sesame Street/USO Experience for Military Families made its debut in July 2008 and is the longest running entertainment tour in USO history.
Among the show's messages was a celebration of friendships that endure.
"Change isn't always a bad thing," Elmo said. "Sometimes change can be good."
The furry cast then broke into a dance about how to take that first step to make new friends with a song about ways to say hello.
A 2013 Princeton study, "The Demographics of Military Children and Families," says that military spouses and children now outnumber service members.
"Active-duty military personnel must move on average once every two to three years, meaning that military families move 2.4 times as often as civilian families," the study reported. "They are also more likely than civilian families to move long distances, across state lines, or to foreign countries.
"Because of the requirements of their jobs, they move much more frequently than civilians do, and they are often separated from their families for months at a time."
In 2011, more than 1.2 million dependent children lived in active-duty families, the report adds.
Some of the themes of Wednesday's show affected the parents more than the kids.
"We were all getting a little choked up. The adults," admitted Sgt. Nicole Hatcher.
Hatcher, another parent dressed in traditional camo, was going to buy a DVD copy of the show because her 2-year-old daughter, Penelope, may not be able to relate to the themes just yet, she said.
But the time will inevitably come for this dual military family. Her husband, a Sgt. 1st Class, deploys for Afghanistan in two months for a year.
"(The show) really hit home," said Hatcher, who has been on Fort Huachuca for two years. "I was like, 'I wonder if (Penelope) knows what they're saying.' That's smart. That's really smart how they did that."
When her husband deploys, Hatcher will stay behind with their two young daughters.
But, at the same time, she's full of pride.
"This makes it, like, OK, my job's awesome. What job brings Sesame Street down the street from your house and you can just grab your kids out of daycare and see Sesame Street?," Hatcher beamed. "I was like, this is awesome! This is a blessing. This is a true, true blessing."
The video of the show will help her kids manage when they begin to realize the transitory life of a military family.
"I'm sure I'll be next to go for deployment," Hatcher said.