The Arizona Department of Health Services reported 92 new COVID-19-related deaths Tuesday morning and 4,273 new cases.
Cochise County has now documented 1,095 cases, up from 1,062 Monday. In the county, 614 patients have recovered and 27 have died.
More than 128,000 people have contracted COVID-19 in Arizona and 2,337 people have died.
Nearly 921,000 have been tested for the virus and 11.9 percent have tested positive.
On Monday, 3,517 people were in Arizona hospitals as a result of COVID-19 and 970 of them were in intensive care. The number of COVID-19 patients on ventilators was 674.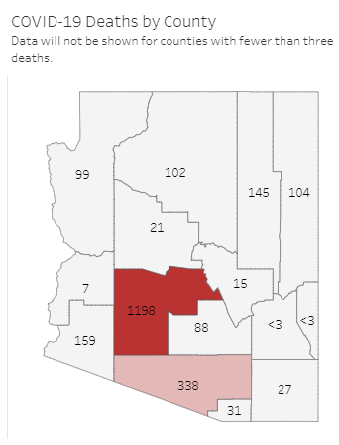 Twelve percent of the state's ICU beds were available on Monday; 48 percent of the ventilators were available.
The U.S. Centers for Disease Control reported 60,469 new cases and 312 new deaths Monday. The U.S. has documented nearly 3.3 million cases since the start of the pandemic and 134,884 deaths.