SIERRA VISTA — There was a steady rhythm at the St. Vincent de Paul Community Food Bank on Tuesday.
People walked up, signed in, made their way around the various tables receiving food, and at last — a Thanksgiving turkey in hand — hauled everything back to their car with the assistance of a volunteer.
Over and over again, hundreds of times, the cycle repeated throughout the morning. But underneath that steady rhythm of giving out food boxes for those who can't provide a holiday meal on their own, there were other patterns of help being played out.
Perhaps the biggest is the annual distribution of Thanksgiving boxes, a clockwork occurrence every year on the Tuesday before the holiday.
Stan Garner, the food bank's director, said this year the organization will give out more than 400 boxes. That's about average, he said, though elsewhere there are signs that more is needed. Our Lady of the Mountains St. Vincent de Paul will distribute close to 200 boxes, a significant increase for them, he said. The food bank starts accepting applications for food boxes in October so they know how many boxes to give away.
"The need is ever increasing," Garner said.
And that's another pattern seen by volunteers at the food bank — a growing want that refuses to be sated.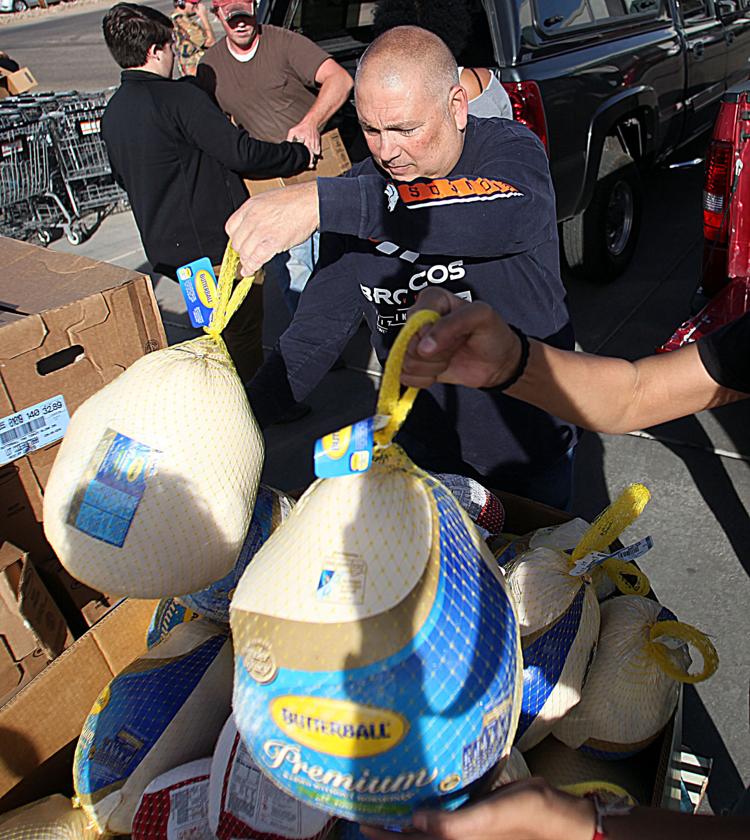 Tom Shier has been helping out at the food bank for several years now, having joined because his wife was already involved. Just in the short time he's been helping out, Shier estimates there's been an 100 percent increase in people needing assistance. Even away from the Thanksgiving holiday, the food bank is distributing an average of 45 to 50 boxes per day.
"It's amazing how many people are destitute and needy," he said.
St. Vincent de Paul receives a lot of food from the Community Food Bank in Tucson and they are reporting the same thing, he said.
But people stepping up to do what they can is also part of the pattern of the holiday season. On Saturday, the food bank had only one-fourth of the turkeys it needed to fill all its boxes. Then stepped in a Zumba class with 40 birds, the Knights of Columbus with 40 of its own, the Salvation Army with 50 and Mountain View Gardens with 25. A few sympathetic souls bought turkeys and donated them as the food bank was soliciting help outside of Safeway on Saturday.
And that's before Acacia Barnett drove up to the food bank with two pickup trucks loaded with even more turkeys.
For Barnett, owner of Acacia B. Brows and Beauty along with Barnett Salon Suites, the gift of 158 turkeys Tuesday morning is also part of a pattern. Hers started four years ago after seeing a Facebook plea for donations. For the past month, any tips and gratuities that would usually go toward her businesses or employees have been saved up to help buy birds for the food bank.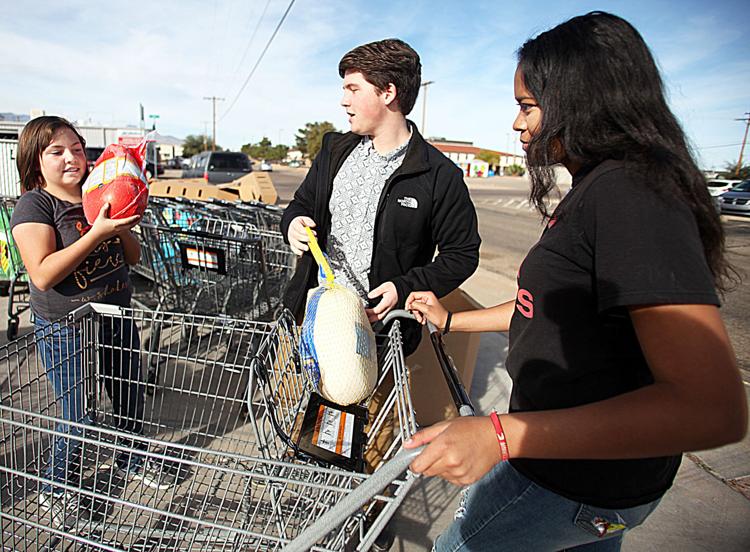 "It's super humbling, we just want help the community," said Barnett, who stressed that she is a Sierra Vista native and small business owner, so the community has supported her in the past.
The number of turkeys she provided this year may be down from the 200 or so last Thanksgiving, but last year there were a lot more turkey breasts instead of whole birds.
"This year we got a lot more Butterballs," she said.
Beside the donations, the pattern extended to those helping stuff boxes and carts with canned vegetables, rolls, bread, tomatoes, onions, stuffing, cantaloupe and the obligatory turkey.
The food bank was swarming with volunteers Tuesday. In addition to the regular workers, there were Vincentians — members of the St. Vincent de Paul Society — a youth group from St. Andrew the Apostle Catholic Church, adults from the same parish, members of the Church of Jesus Christ of Latter-day Saints, volunteers from Fry's grocery story and even 35 soldiers from Fort Huachuca.
The soldiers turned out to be such a help setting up Tuesday that distribution of the food boxes started at 7:30 a.m., which was at least half an hour earlier than usual, Garner said.
Part of the youth group from St. Andrew's was Jonathan McCall, who was volunteering for his third year in a row. He was part of a six-person group helping to fill boxes and carrying food to cars. Over the past few years the one thing he noticed is how the service makes a difference.
"It's really nice helping out the poorer people, people who can't afford this," he said.
Jessica Lopez was one of those being helped Tuesday. Walking back to her car, she noted it was a lot of food they were given. Her family does the big Thanksgiving meal and they are thankful for the food bank's assistance.
"It's really good; it's a lot of help," she said.
In the midst of all of this, Garner was quick with a line he always uses in speeches and interviews. Something to remind the community that this pattern is appreciated, but the larger one will extend far beyond Thanksgiving.
"Hunger never takes a holiday or a vacation," he said.