BISBEE — Black smoke billowed up from Old Bisbee on Friday morning when a 1995 Ford Econoline van caught fire while parked in front of the Copper Queen Post Office just after 8 a.m.
The owner, Richard Maul, was at the Bisbee Coffee Company having coffee when someone told him his van was on fire. Most of downtown was still empty, as the post office and most shops had yet to open, so few people were around at the time.
Smoke began billowing from under the hood, then flames shot up from the engine compartment and from the undercarriage and quickly engulfed the cab of the vehicle.
The Bisbee Fire Department got the call at 8:14 a.m. and were on the scene within five minutes with two engines, an ambulance and a rescue truck. Firefighter/paramedic Raul Villasenor, Capt. George Castillo, Lt. Mel Ray, and firefighter/EMTs Nick Hauser, Andy Decastro, Steven Schlotmann, and Ramon Borbon all worked quickly to put out the fire, while Sgt. Janus Poppe with the Bisbee Police Department directed traffic down Main Street around the fire truck. After the firefighters got most of the fire knocked down, firefighter/paramedic Raul Villasenor removed two full gas cans from the passenger side of the van. Maul, who lives on the other side of the Mule Mountains on Red Mountain Road, had just filled up his van, as well as both a five gallon and two gallon gas can that morning, Capt. Castillo said.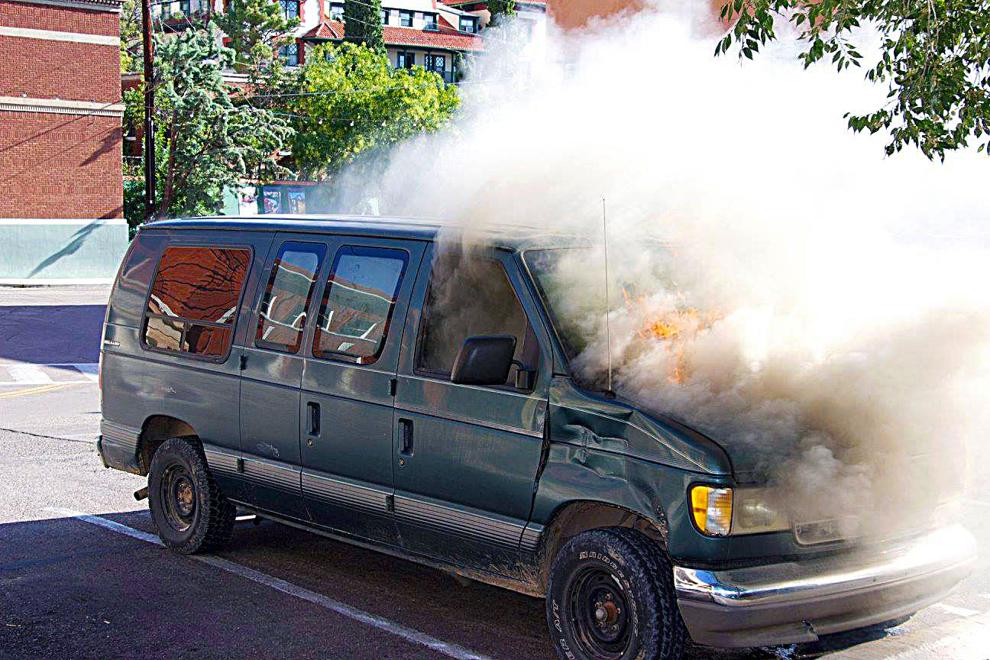 "I asked him if he was having problems with his vehicle and he said no it was running good," Castillo said. "If the fire would have reached those gas cans there would have been an explosion. It would have flashed really bad."
Fortunately, firefighters were able to put the fire out quickly and prevent it from reaching those gas cans and other nearby vehicles. They were on the scene for about an hour mopping up before a tow truck arrived to haul the van away, and Maul headed to the Bisbee Review office to call his wife to come pick him up.
Luckily, due to the early morning hour, both foot traffic and vehicle traffic were light, and no one was injured. Smoke and a chemical smell lingered in the downtown area but dissipated as the morning wore on.