If watching scary movies is part of the Halloween plans, know that the Frankenstein's monster looming from the screen just may have Willcox roots.
George Glenn "Pee Wee" Strange played the monster in three Universal films: "House of Frankenstein" in 1944, "House of Dracula" in 1945, and with Abbott and Costello in "Abbott and Costello Meet Frankenstein" in 1948.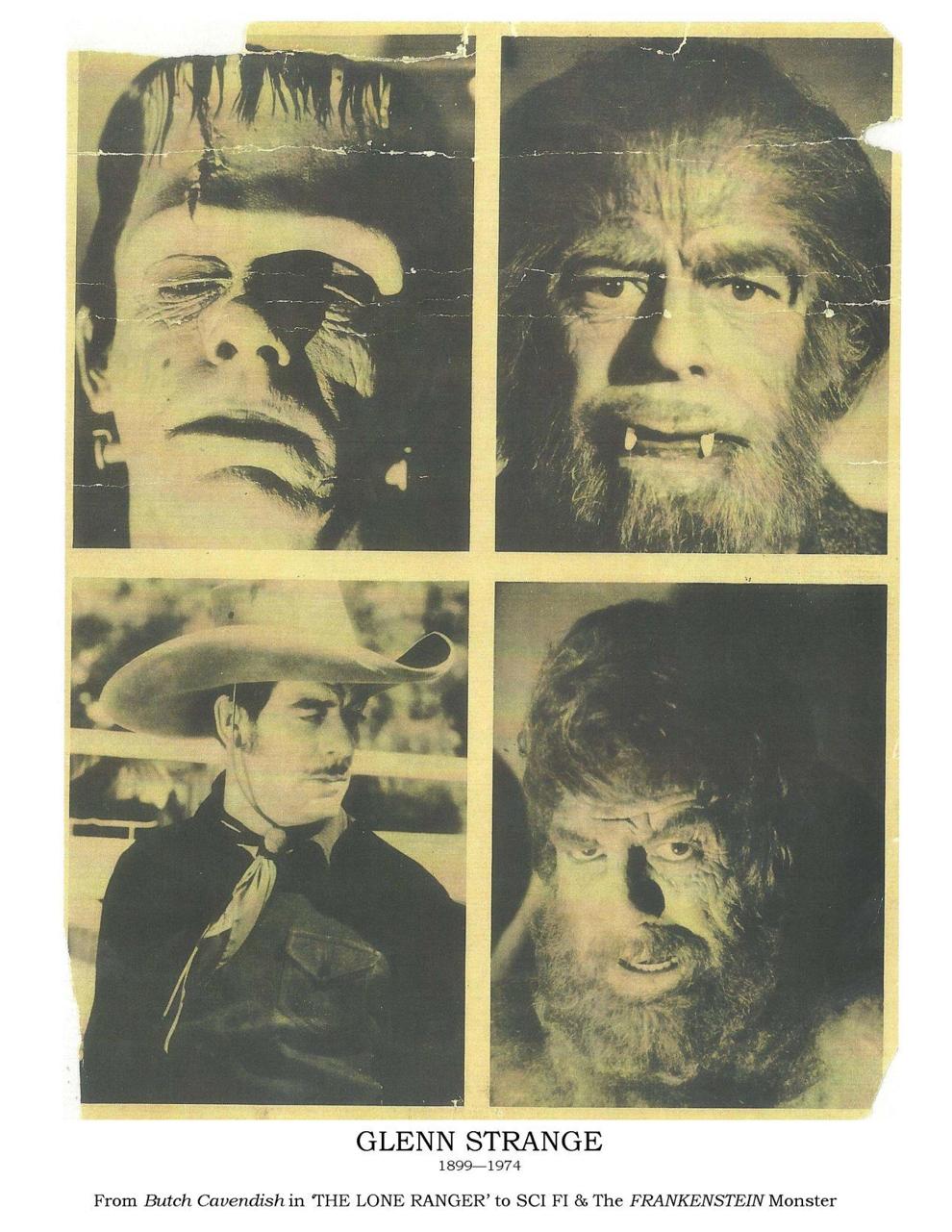 Strange is one of a set of three Hollywood cowboy cousins — the other two being Rex Allen Sr. and Taylor Curtis "Cactus Mack" McPeters.
Strange and McPeters were born one week apart, in 1899, to two sisters in Weed, N.M., according to Julie Ream, who is McPeters' granddaughter. Strange was born to William Russell and Sarah Eliza (Byrd) Strange, while McPeters was born to John and Leona (Byrd) McPeters.
"Their mothers, who, like their sons after them, did everything together, made their way to Texas, where they taught their boys ranching, then eventually came back to their families in Willcox," Ream said.
Willcox was to be the birthplace of younger cousin Rex Allen, who was 21 years their junior.
Starting a musical career
Strange taught himself to play the fiddle and guitar and, along with McPeters, performed shows while still in his teens. In the early '30s, McPeters had a band called the O Bar O Cowboys, named after the Arizona ranch he worked on at the time. It is still a working ranch to this day.
After landing in Willcox in the early 1930s, Strange and McPeters "headed back to Los Angeles, the B Westerns, the Hoot Gibson Rodeo and their singing cowboy bands, leaving the O Bar O's to one of the members — a young Leonard Slye," Ream said.
McPeters even allowed Slye to use the name "Cactus Mack." It was the first stage name Slye ever used until, that is, he finally changed it to Roy Rogers. One name change followed another, and the O Bar O Cowboys evolved into The Sons of the Pioneers.
In  the later 1930s, Strange and McPeters belonged to the Arizona Wranglers, The Texas Cowtown Boys and Girls and many, many more, Ream said.
Also in the late '30s, Strange was singing fillers for "B" Westerns. In 1935, Strange provided John Wayne's singing voice when Republic tried to make Wayne a singing cowboy.
Strange's first real acting gig came in 1936 with the Flash Gordon epic, "Ming's Army."
Because of his massive size — 6 feet, 6 1/2 inches — Strange found himself in demand as "heavies" and bad guys. Not quite the role of a monster, Strange was nonetheless cast as the notorious Butch Cavendish, nemesis of the Lone Ranger and leader of a murderous gang in the movies "Enter the Lone Ranger," "The Lone Ranger Rides Again" and "Riders of Death Valley."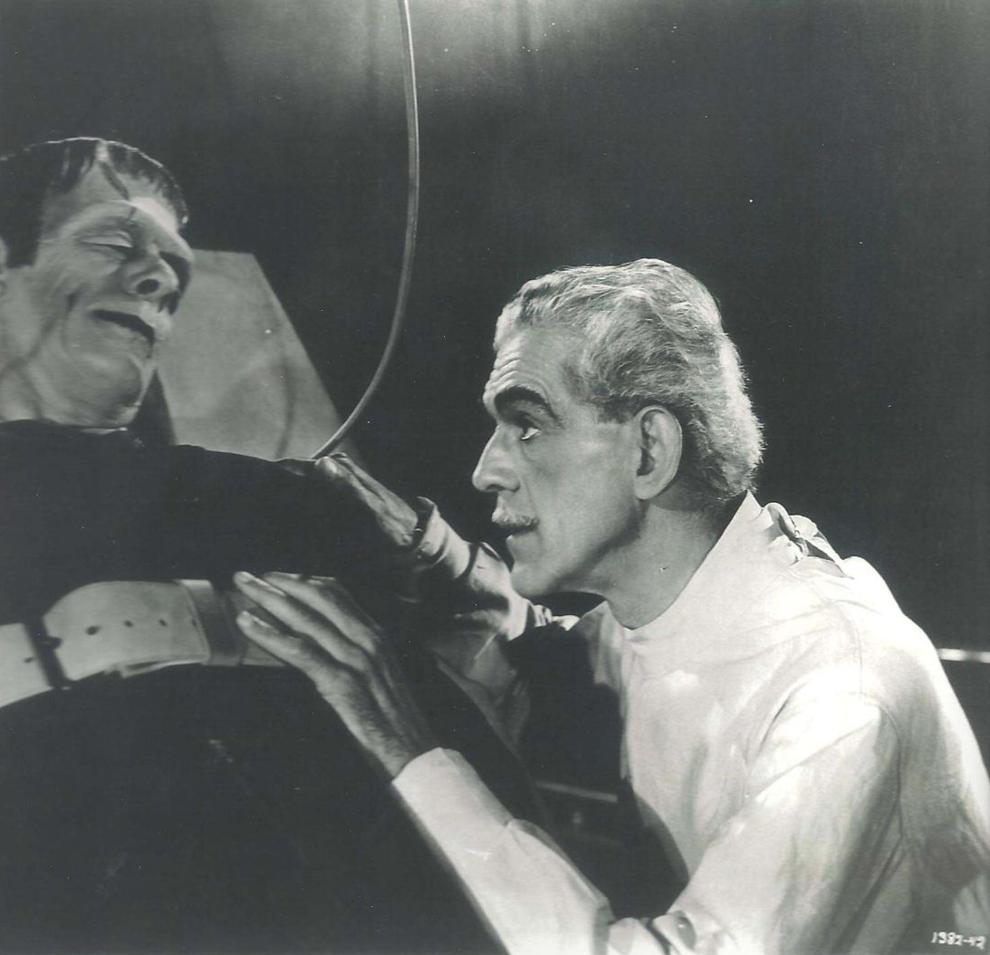 Strange's career as Frankenstein began when he was at lunch in the commissary at Universal Studios, where its legendary makeup artist, Jack Pierce, was watching him, Ream said.
Pierce was the makeup artist for Boris Karloff, who was portraying the monster at the time. It took four hours in the makeup chair and wardrobe to prepare Karloff for the part. While he loved working on the films, Karloff was tiring of the tedious discomfort of wearing the heavy makeup and padding.
Looking at Strange's height, rugged looks, girth and demeanor, Pierce reportedly thought to himself, "If I only had him, I'd be halfway through the makeup job before I began."
Pierce approached Strange, offering him $25 to make him up and, 45 minutes later, he had a new monster. Strange needed only the raised brow and flat head apparatus applied, and the rest of the makeup was applied to his skin — a much more comfortable situation for all concerned.
It allowed Strange to become the monster and Karloff, the doctor. So popular was Strange's portrayal, it was his image portraying Frankenstein that was mistakenly displayed behind Karloff as he laid in repose at his memorial service, Ream said.
Strange was later offered the role of the monster in "The Creature from the Black Lagoon," turning it down as it required spending too much time under water.
He loved working on "Abbott and Costello Meet Frankenstein" and constantly broke up laughing at Costello's crazy antics, Ream said. Costello's little daughter, Chris, was so frightened by Strange's presence that she cried every time she saw him in makeup. This was hard for Strange as he loved children.
Fans of the 1948 movie may not know that during production, Strange broke his foot, with one key action scene still needing to be filmed. As the monster, Strange was to throw an actress through a huge glass window. The scene was shot as planned, but if one looks closely, it wasn't Strange in costume, but his friend, Lon Chaney Jr., standing in.
The role that made him famous
Despite his popularity as Frankenstein, Strange is probably best known for his portrayal of a much more benign character: Sam Noonan, bartender at the Long Branch Saloon, in the television series "Gunsmoke," from 1962-73.
Strange was hired for the role, largely due to his size. The star, Jim Arness, had said to him, 'Why don't you come over here and work with us; I like working with big guys," Ream said.
Strange was so much loved that, after he became terminally ill, the "Gunsmoke" producers "allowed him to work right up until he no longer could," Ream said, adding, "They let him decide.
"He was the nicest man in the world," she told the Range News. "You'll never find anyone who didn't love him. I loved to listen to stories of actors who admired him, and thoroughly enjoyed his company."
Ream said that Strange adored her grandfather, McPeters, and, "You almost never saw them apart from one another. If one had a role in a show, the other would, as well, so that they could play music on and off screen.
"Glenn adored being around children and also loved to cook — and he was funny. He loved to tell jokes and have a good time. He had a stellar professional reputation and took his jobs very seriously, respecting everyone's position, time and expense."
Strange's songwriting partner, Eddie Dean, sang at the funerals for both Strange and McPeters but was so choked up at Strange's death, a recording had to be played instead.
Strange's living history in Willcox
While Strange is memorialized at the Valley Relics Museum in Chatsworth, Calif., there is a small exhibit dedicated to the careers of Strange and McPeters right here in Willcox's back yard.
In her introduction to the Willcox exhibit, Ream said, "Through captioned pictures, it shares just a bit of their lives and careers, along with their love and connection to their hometown of Willcox."
It can be seen at the Rex Allen Museum, located at 150 N. Railroad Ave.