WILLCOX — Personal history and feelings of betrayal were voiced loudly over the dismissal of longtime local physician, Dr. Jeffery Bushman, last Tuesday.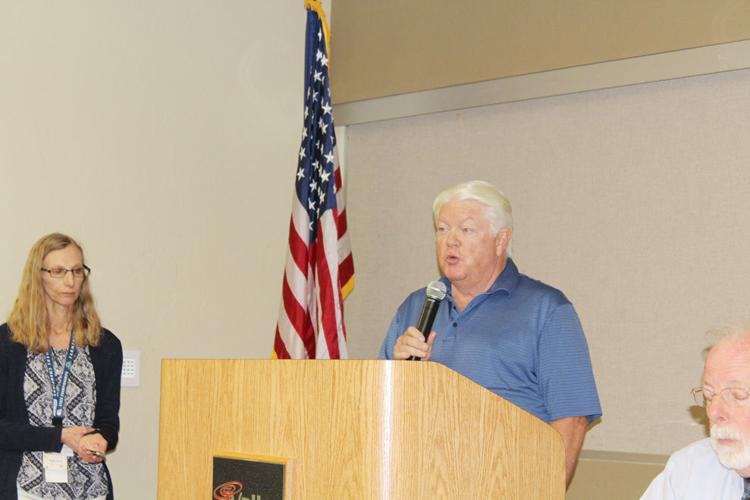 The Arizona Board of Osteopathic Examiners in Medicine and Surgery met Saturday April 13, in Phoenix to act on allegations of unprofessionalism by Bushman. A complaint was made by a Willcox pharmacist who alleged that Bushman was overprescribing narcotics to patients.
The medical board voted to strip Bushman of his ability to write controlled substance prescriptions in a practice-restriction disciplinary action. Bushman is not currently allowed to prescribe controlled substances class two to five.
Tuesday's meeting of the Northern Cochise Hospital District Board of Directors, at the Valley Telecom conference room, allowed residents to voice their opinions on the actions by the medical board, as well as the hospital's decision to discontinue affiliation with Bushman.
The room was filled with Bushman's former patients, as well as several leaders of the community, including Willcox Councilwoman Terry Rowden, who was one of the first to give her statement.
Bushman presented a timeline of events regarding his situation, beginning in the summer of 2018 at the release of new prescription guidelines. Highlighting his personal experience between himself and the CEO of the hospital, Roland Knox, Bushman said he was set for the renewal of his contract and a raise.
"He (Knox) asked if I was having any issues. I told him the only issue was the complaint filed with the state board, and he said that he didn't know about that. I said that I thought he had access to the board actions, and he said that he had not checked that in a few months. At that point, I told him about the complaint," Bushman said.
"A few days later, he asked me to come over and talk to him. At that point, he told me I was in breach of contract because I had not given him written notice of the complaint within three days of my notification from the board. I met with an attorney who told me that I was not in breach of contract, and I met with Steve Metts soon thereafter and explained the situation to him.
"April 13, I met the state board, and they directed that I attend the two and a half-day (of training). On April 18, Mr. Knox contacted several insurance companies about me. On April 22, I met with Mr. Knox and he fired me. I asked him, at that time, if we could work something out, and he said no. I've scheduled to take this course in July and meet with the state board on Aug. 10. I just wanted to make it clear that I've not broken any laws. I still have a license to practice medicine. I expect the temporary restrictions on prescribing controlled medications to be lifted at the state board meeting.
"And I found it very strange that just a few days after Mr. Knox said I was doing great job and was offering a raise that it became hostile; and every time I met with him when it was just the two of us, it was a hostile situation. I don't really understand that, but I do know that there were options. He did not have to fire me. There's ways things could have been worked out, but apparently he had no interest in doing that."
Knox was not present at the meeting and was the target of several angry statements made by those attending.
Patricial O'Neal said Knox should terminate himself, to which the crowd applauded. Judy Shannon said the situation was "a farce."
The local pharmacist who reported Bushman to the board was also brought under scrutiny by individuals who chose to come to the stand as well. Many of those who left their statements with the board said that if Bushman was not reinstated with the hospital, they will be taking their personal medical needs elsewhere.
"We, as patients, did not choose to change our doctor; it was done without our consent. We have been abandoned as patients. This again does not bode well for the hospital and therefore the community. Willcox can't afford to lose our hospital. Let us remind the board about what happened to the school when their override did not pass," Rowden said. "All it would take would be some disgruntled patients to lobby against the passing of the hospital's bond election to put that $1.6 million benefit in jeopardy, or to file complaints with the Department of Public Health Services."
After the meeting, the Range News spoke to those representing the hospital and received the statement of Metts, chairman of the hospital's corporate board of directors.
"We appreciate Dr. Scott and the district board allowing us such a generous amount of time on their agenda to listen to the opinions of all those concerned and thank all of the individuals for taking their time and providing their input. We stated at the beginning of the meeting that we would not be able to respond to individual comments in order to respect Dr. Bushman's privacy, and we appreciate everyone's understanding of that issue," Metts said.
"While we cannot agree on many areas that were discussed, we respect the opinions of those who spoke and of all current and potential patients. Most importantly, and like everyone in our community, we remain committed to providing the safest and best quality health care, and our decisions are always made with the goal in mind."